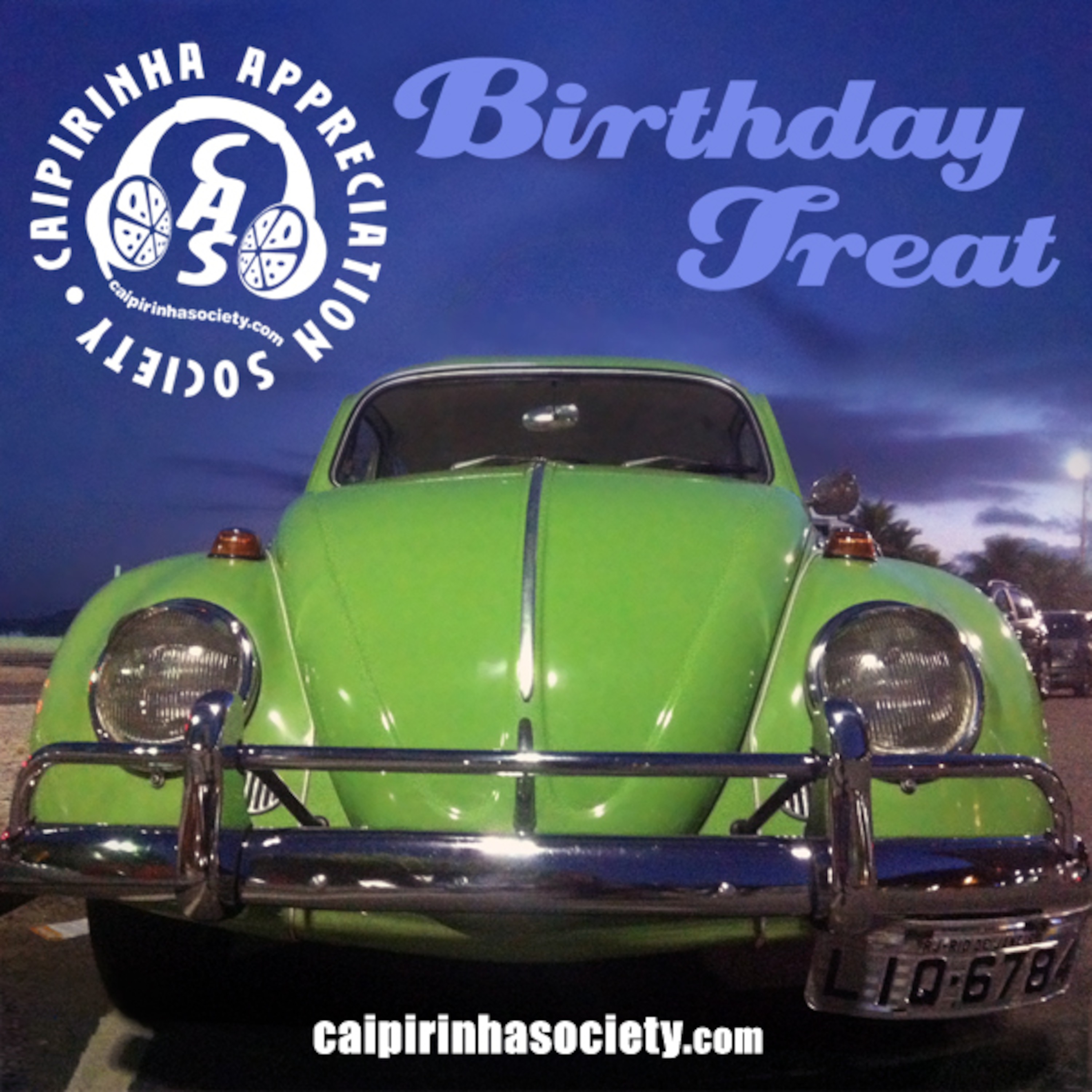 marijó | os skywalkers | paulo diniz | maquinado | igor de carvalho | mu chebabi | edson frederico e a transa | orlandivo | walter wanderley | a roda | mula manda e fabulosa figura | pélico | música ligeira | naná rizinni | mombojó | momo | cibelle | nelson gonçalves | os tincoãs | moacyr luz | miriam batucada | lúcia menezes | baby consuelo | elza soares | pedrinho rodrigues | mauricy moura | noite clara | rapping hood | instituto e sabotage | mv bill | f.u.r.t.o. | coleta seletiva | sudaka
BIRTHDAY TREAT

Caipirinha Appreciation Society presenters MdC Suingue and Kika Serra have birthdays only two weeks apart and usually celebrate them together. Should our dear listeners wish to give the pair of us a birthday treat, here are a couple of suggestions. The caipirinha-coloured VW Beatle featured in this episode's artwork would be nice. Alternatively, you can tell your friends, family, teachers, colleagues, flatmates, neighbours and passers-by about your favorite cliché-free Brazilian music show. We'd like that, too. Very much.

MIMO DE ANIVERSÁRIO

Os produtores do Caipirinha Appreciation Society MdC Suingue e Kika Serra fazem aniversário com duas semanas de diferença, e costumam comemorar juntos. Caso nossos ouvintes desejem nos fazer um agrado, vão aqui duas sugestões. O fusquinha verde-caipirinha da capa deste episódio seria um lindo presente. Outra alternativa é divulgar seu programa preferido de música brasileira a-prova-de-clichê entre seus amigos, família, professores, colegas, vizinhos, conhecidos e desconhecidos. Isto também nos dará muitas felicidades, nesta data querida.
Podcast: Reproducir en una nueva ventana | Descargar